The LoBoy Cypress DeckBox is great for any outdoor activity.
LoBoy has done it again with our new outdoor DeckBox. No more bending over to retrieve food and beverages from that cooler sitting on the ground. Our LoBoy Cypress DeckBox is designed waist-high for ease of beverage or food retrieval.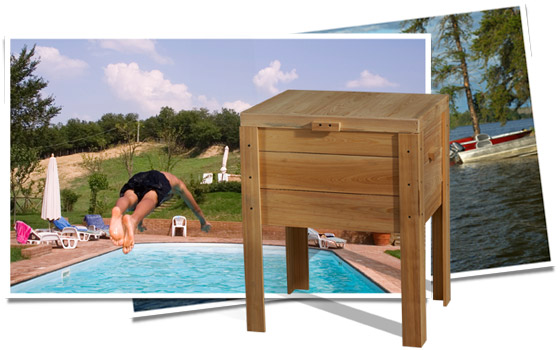 The DeckBox's exterior is made from virtually weatherproof cypress wood and will enhance any patio, deck, pool, cabin, garage or family room.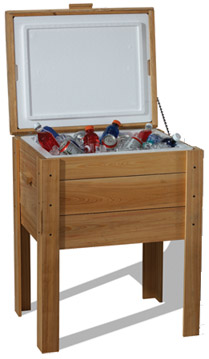 At the heart of the DeckBox is our LoBoy 68 quart, durable, thickwall cooler, complete with drain. All designed to keep your food and beverages hot or cold, not for hours, but for days.

Like to fish or hunt? The DeckBox looks great out on the porch of a cabin, lodge, or dock. You can use it for storage - dry towels for after swimming or blankets for those cool nights.

Having a barbeque? Just set your DeckBox next to the grill for a handy table to hold all your grilling accessories. Implement racks can be attached to hold tongs, forks, or sauce bottles to make barbecuing that much easier. The possibilities are endless.

And, as with any LoBoy quality product, clean up is easy, just use dish soap and water to clean the inside. The Loboy Cypress DeckBox will last for years.
All-Weather Cypress Construction
Keeps Food & Drinks Hot or Cold for Days
The Perfect Outdoor Grill Companion
Can Be Used As Weatherproof Storage
Mini DeckBox
Take a DeckBox with you wherever you go. Just strap it to your four wheeler and head off to your favorite hunting or fishing spot, or take it tailgating at your favorite sporting event.
27 Quart Natural DeckBox
With or without 2-inch padded cushion

Contact our sales department for pricing information.